Testimonials
Our Customers Love Us

Bless Kyngston
CA
Clean PC Plus
It is easy to use. The navigation interface is simple and very understandable. I am not a tech inclined person but even I understood what each feature was for and what it would do to my computer. The program is also effective and quick. My computer has gone from being very sluggish to the speed that I was used to when I had just bought it a few years ago. Overall, a good user and customer experience.

Chris Elliot
AZ
Clean PC Plus
My Windows PC was acting very sluggish recently and this software made my computer a faster than it used to be. Support team were extremely knowledgeable and instructed me with extra steps to speed up my computer.

Jeff Berry
AL
Clean PC Plus
After using Clean PC Plus, I was relieved. It had fixed errors. My computer now works faster. I do not have to wait for almost 10 minutes just for me to see my first screen. The so calling booting is way faster now. I am very thankful to Clean PC Plus, I still have not found a job but I know I have something to use when I do. Hooray to you folks!
Why choose us
Get Rid of Unwanted Files & Improve User Experience


With Clean PC Plus, you get to steer clear of programs and files that cause irrelevant pop-ups, warnings and sudden crashes.

Cleaner Computer


Clean PC Plus instantly increases your computer's speed by identifying and deleting files that may be fslowing down your computer and internet browser.

Powerful Scanner that Identifies Every Faulty File


Clean PC Plus comes with a powerful scanning engineer that finds, repairs or deletes files that might be causing your system to slow down.

Download
One-click download, one-click setup and you're ready to run a free diagnosis within minutes.

Scan
You get to run a FREE diagnosis, to find tracking records, with the click of a button.

Upgrade
Activate Clean PC Plus for just $19.99 to repair, remove, and speed up your computer within seconds.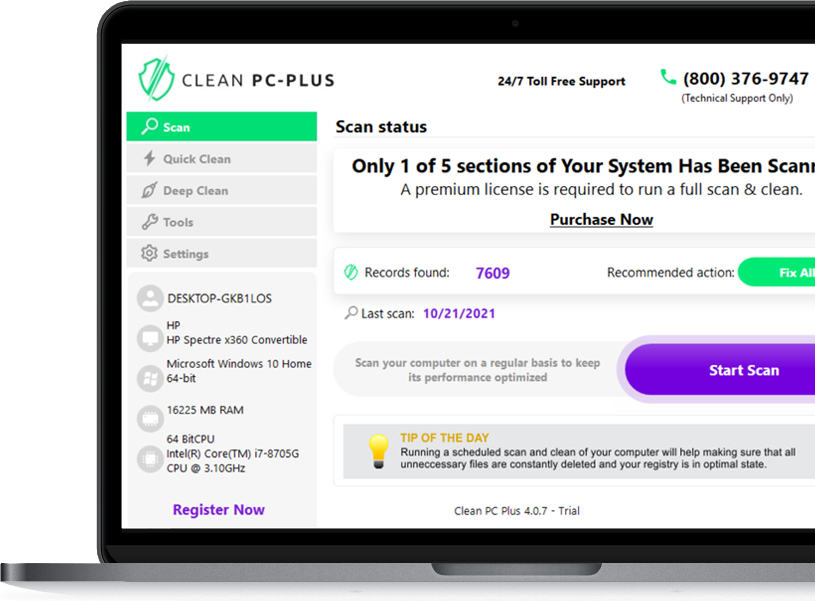 Make My Windows 10 More Robust
Clean PC Plus's powerful scanning tool is specially made for Windows and it helps speed up and eliminate issues that are causing the system to slow down.

Speed Up Windows PC's
Whether you have Windows 8 or Windows 10, Clean PC Plus is specially created for all types of Windows. Meaning with us by your side, you will have a tool that not only speeds up your windows but will also offer customized care for your computer.

Clean My PC
PCs are meant to be used as much as you want. But with this repeated usage, certain programs and files can clog up your system and slow it down. CleanPC Plus eliminates this clogging by either repairing or deleting these files. As a result, you get a PC that's as good as new.

Speed Up My PC
Worried about a slow computer? With Clean PC Plus, you will get access to live support all the time. And the best part? You will only need to follow simple steps to diagnose and remove files and records that might be slowing down your computer and browsers.
Free scanning and cleaning is limited, payment needed to get full version